Vibha Sharma
Tribune News Service
New Delhi, March 26
Prime Minister Narendra Modi today assured Jats of finding a solution within the legal framework on the issue of Supreme Court scrapping reservation for them.
A statement issued by the PMO said a 70-member delegation from various states today called on the Prime Minister to discuss issues related to the Jat community, including the recent Supreme Court decision scrapping reservation for the community under the OBC category.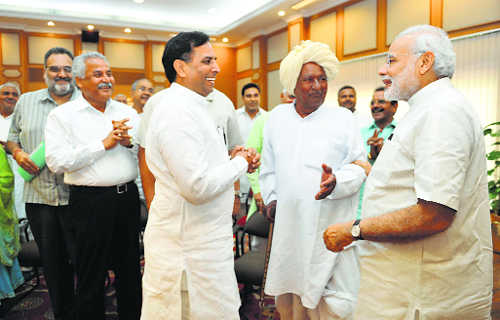 "The Prime Minister listened carefully to the issues raised by the delegation. He said the government is studying the Supreme Court decision and will try to find a solution within the legal framework," the PMO statement said.
The Prime Minister also urged the delegation to take the lead in implementing the "Beti Bachao, Beti Padhao Abhiyan".
The apex court on March 17 scrapped reservation for the Jat community given by the UPA government in nine states. It also slammed the Centre's decision to overlook the finding of an OBC panel that Jat is not a backward class.
For the BJP, this has resulted in a Catch 22-situation. Jats occupy a preeminent position in Haryana, western Uttar Pradesh, Punjab, Delhi and eastern Rajasthan, constituting the largest group in north-western India. The land-owning community, which is believed to be upset over their leaders losing prominence in the political spectrum of the region, is also upset over the controversial amendments that the BJP-led NDA is trying to bring to the Land Acquisition Act.
However, their cutting into the OBC pie is something that had not gone down well with the members of other communities in the list enjoying reservation benefit for years. Other OBCs also constitute an equally formidable vote bank in the two states high on the BJP's wish list — Bihar and Uttar Pradesh.
Meanwhile, Haryana Agriculture Minister OP Dhankar, who was part of the delegation, said the Jat community should be given benefits that the Ahir and Gujjar community enjoyed. "We want that the benefits Jats had been getting in admissions and jobs should not be withdrawn," he said.
The delegation also met BJP president Amit Shah, who said the party was contemplating several options, including "constitutional", to resolve the issue.
Battling the "anti-farmer" image of the BJP created due to the new land acquisition Bill, a party source said: "We are trying to pursue the matter constitutionally. We will soon make the party's stand clear on the issue."
Jat leaders have already told the top leadership about the "adverse effects" of the apex court's orders on the community. Sources say the Jat delegation also told Shah about the underlying anger in the community in Haryana after anointment of "a non-Jat as the state Chief Minister". Sources say the "after-effect of the decision was seen in the Delhi Assembly elections where the community completely turned against the saffron party".